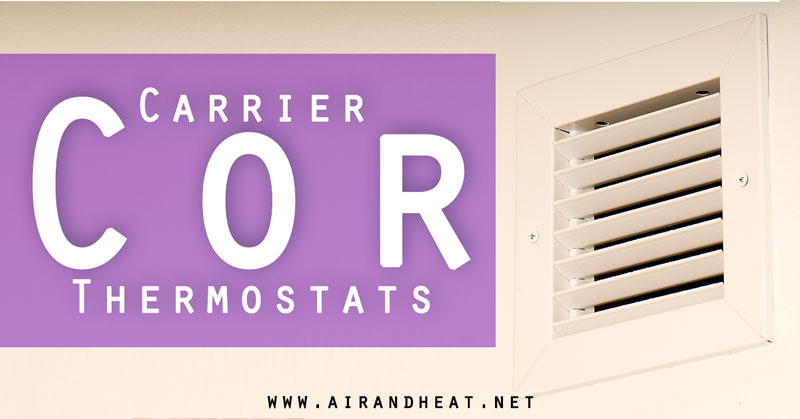 Smart thermostats are changing the way homeowners heat and cool their homes. The Cor thermostat, from Carrier, allows users to take better control of their HVAC systems in an easy and hassle-free way.
The Benefits of Carrier Cor Thermostats
These thermostats use smart technology to help warm and cool air distribute through your home more efficiently. The Cor thermostat has a variety of benefits that make it an excellent choice for anyone looking to improve the use of their system.
Carrier Cor Design
Cor thermostats have 3.5-inch screens against a sleek black design. Instead of having a bulky, traditional thermostat take up space on your wall, you can instead have this small device installed. The color touchscreen makes it easy to navigate between different menu options, just as you would with any smart device. Since one button isn't used for many functions, like you'd find on a traditional thermostat, you can enjoy a variety of features that make heating and cooling your home easy.
Carrier Cor Features
With this smart thermostat, you can set a variety of features, including:
A 4-day weather forecast
A monthly energy report
Interactive tips for energy efficiency
Remote access
The Cor thermostat makes it easy to save money on your heating and cooling costs. The energy report and energy saving tips help you know just how much energy you're using each month, and ways you can make your system even more efficient. One of the best features about the Cor thermostat is that it allows you to access all your controls remotely. Just download the mobile app on any smart device, and you can adjust your settings away from home. This can come in handy for a variety of reasons, including forgetting to change your settings before leaving for vacation and lowering the heat if you'll be home later than you anticipated.
Carrier Core Smart Setback
The Cor thermostat also has a smart setback feature that monitors the temperature and humidity both inside and outside the home. This monitoring enables it to make automatic adjustments in heating and cooling. The Cor thermostat can even remove humidity from the air and decrease condensation on the windows.
To change the way you monitor and control the temperature inside your home, consider getting a Carrier Cor thermostat. All Cor thermostats are installed by a qualified Carrier technician.
http://airandheat.net/wp-content/uploads/sites/47/2016/02/AirAndHeat-CarrierCorThermostats-2-5-15.jpg
419
800
http://airandheat.net/wp-content/uploads/sites/47/2016/03/airqualitylogo.png
2016-02-18 14:37:12
2016-02-18 14:37:12
All About Carrier Cor Thermostats