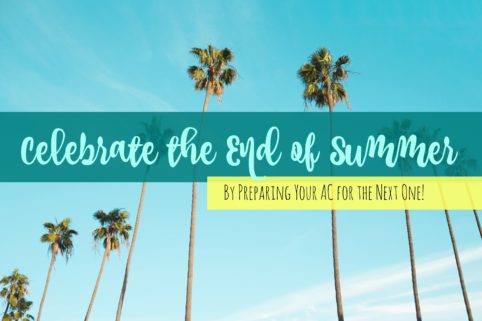 Fall is here, and a changing of the seasons means a change in demands on your HVAC unit. As you start celebrating the end of summer, it's time to show your air conditioner a little TLC. Though you may think it's too soon to start thinking about next summer already, there are ways that you can make sure your HVAC system is running efficiently and ready to keep working hard year-round. Get ready for the months ahead and be prepared for next summer by taking some basic HVAC maintenance measures.
How to Prepare Your HVAC Unit for the Year Ahead
Now that your HVAC system has worked hard all summer, here's how to prepare it for the year ahead:
Replace your air filters.
Pollen and dust levels are high in the summer. If you have not replaced or cleaned your HVAC filter recently, change your filter before you head into fall. Dirty and clogged filters cause your unit to work harder than necessary, which can increase energy usage and put additional strain on the unit. Changing your filter routinely helps you prevent maintenance issues while also helping your unit run more efficiently. In fact, according to the U.S. Department of Energy, regularly replacing your air filter can lower your AC's energy consumption by about 5 to 15%. Make sure that you use a filter that is designed for your HVAC system and keep up with filter changes throughout the year to maintain efficiency.
Remove debris from outdoor unit.
If you have an outside unit, there is a chance that twigs, leaves, and other debris may have accumulated in and round the space over the summer. Check for and clear any debris on the tops or sides of the system to remove any obstructions. This is also a great time to monitor outdoor landscaping and trim any grass, trees, or shrubs that may be blocking the unit after summer growth. Any foliage around or hiding the unit should be at least one foot away from the outdoor unit. By maintaining the landscaping and removing any debris from around the unit, you are removing any blockages that might keep the system from functioning efficiently.
Schedule an HVAC tune-up.
The best way to prolong the life of your HVAC unit is by scheduling regular maintenance. As summer comes to an end, it is time to check your furnace and tune up your air conditioner. During the tune-up, an HVAC professional can check the system's parts to make sure there is no damage and everything is running efficiently. The technician can also change refrigerant and replace the air filter if necessary. This little pre-fall tune-up will not only help you prepare for the months ahead, but it can also help identify any maintenance issues before they cause a bigger problem.
Air Quality Heating & Air is ready to help you make sure your system gets you through fall, winter, and beyond. We offer maintenance agreements that help keep your system running smoothly year-round, improving efficiency and reducing the number of breakdowns. Call us today for more information.
http://airandheat.net/wp-content/uploads/sites/47/2016/09/AIRQUALITY_SEPpic2.jpg
2212
3318
jbenbrook
http://airandheat.net/wp-content/uploads/sites/47/2016/03/airqualitylogo.png
jbenbrook
2016-09-28 03:21:15
2016-09-28 03:21:15
Celebrate the End of Summer by Preparing Your HVAC Unit for the Next One