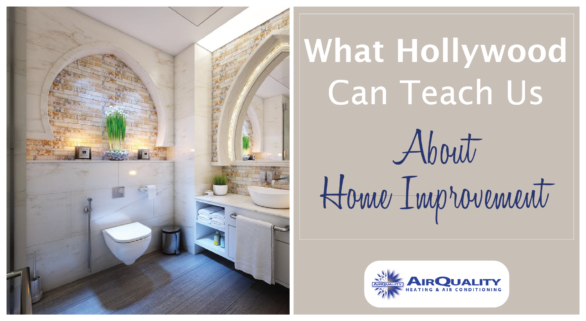 Believe it or not, Hollywood can teach us a lot about home improvement. While we can't always connect with the sprawling mansions, majestic castles and modern highrises that we see on the big screen, we can still find inspiration for home improvement in the themes and plots of recent releases such as Beauty and the Beast, Ghost in the Shell, Boss Baby and Get Out. With the right attitude and enough effort, your home could become your own cinema worthy castle.
A beast can turn into a beauty
If anything can be learned from Disney's reprize of Beauty and the Beast, it's not to judge a book by its cover. When it comes to older, or seemingly rundown homes, it can be easy to right them off as lost causes. However, with the right vision, attitude and a little love, you can turn that beast of a home, or project, into a beauty.
Someone else's trash can be your treasures
When it comes to home improvement, the ability to thrift can inspire or finish off the perfect project. Between garage sales, secondhand stores, estate sales, flea markets and even waste yards, you can find hidden treasures if you take the time revitalize them to even better than new. As seen in Ghost in the Shell, much can be done with something that has been deemed barren. See what you can find that, with a little paint and a few extra touches, can be transformed into something amazing.  
Never forget who's the boss
Home improvement is often very practical and calculated. This is mostly a great thing, however, for families, it can be challenging. If a connection between DreamWorks Animation's, The Boss Baby, and home improvement can be made, it's to not let the extra work and stress of a DIY project or total home remodel allow you to neglect family time. Also while you're at it, throw in a tree swing or top bunk slide to your projects to keep your little bosses happy.
Follow your own conventions
In Jordan Peele's, Get Out, we get an eerie look into what it's like to be trapped in a world that makes you feel like you don't belong. When it comes to home improvement, you can come at it from an equity perspective or you can look at home improvements as an opportunity to personalize your home to better suite your needs or wants. If you feel like your style isn't represented on HGTV or in magazines, movies like, Get Out, are a sign that the "standard conventions" are changing to represent and accept more styles and ways of life. Don't be afraid to join the counterculture when it comes to your home's renovations and projects to proudly showcase your personality.
Though we may know a bit about Hollywood out in San Jose, what we really know is HVAC. At Air Quality Heating & Air Conditioning, we dedicate our expertise in heating, cooling, energy efficiency and the home improvements that can help boost your home's efficiency. For star studded cast of HVAC specialists in San Jose, contact Air Quality Heating & Air Conditioning today!
http://airandheat.net/wp-content/uploads/sites/47/2017/04/AirQuality_WhatHollywoodCanTeachUsAboutHomeImprovement.png
1010
1845
agreenwood
http://airandheat.net/wp-content/uploads/sites/47/2016/03/airqualitylogo.png
agreenwood
2017-04-15 23:17:02
2017-04-24 23:21:33
What Hollywood Can Teach Us About Home Improvement