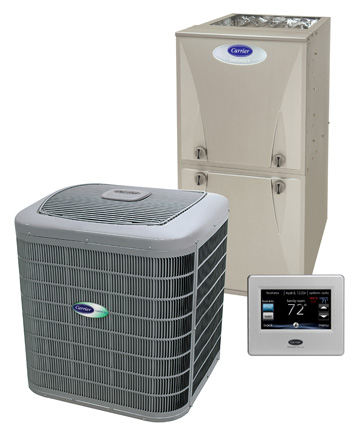 A Carrier Factory Authorized Dealer is an esteemed title which is awarded to distinguished contractors and dealer who've met some demanding national standards. They are comprised of a minute percentage of all HVAC firms across the country. When one opts for a firm with this award, they can expect the best customer service, sound workmanship during installation, top-notch expertise on all aspects of the equipment and that warranty obligations as well as liability coverage will be honored.
Top Features of Carrie Factory Authorized Dealers
There are several reasons why one should opt for a contractor or dealer who falls under this category. In doing this, they can rest assured of the best service and reliability. There are also other reasons why one should be persuaded to do so.
Efficiency
To qualify for the award, a firm must prove that they can meet their clients' needs with ideal solutions for both heating and cooling. The contractors are also educated on the key aspects of various equipment types. They need to demonstrate their ability to practically utilize this knowledge in increasing their clients' comfort in a fast yet reliable manner.
Expertise
Technicians who work for Carrier factory authorized dealers are also taken through regular training at the facilities. They also need to observe various strict national guidelines. Whether one needs to replace or repair their A/C system, the experienced staff will surely get the job done in the right manner.
Professionalism
All authorized dealers are required to be in possession of all the necessary licenses and be adequately insured as well. They also need to demonstrate their ability to honor their warranties fully while helping their clients take advantage of them. As such, a client can expect integrity, upfront treatment and honesty when they opt for Carrier authorized dealers.
Comprehensive HVAC Solutions
A Carrier factory authorized dealer offers extensive lineups of heating and cooling services. They're well equipped to handle repairs, maintenance and installations. Most offer service agreements and maintenance contracts to make things easier for clients. The dealers are also EPA-certified for appropriate refrigerant management. Working with such a dealer means that one can expect excellent service and superior quality. Follow us for more articles that your HVAC systems running comfortable and efficiently.
http://airandheat.net/wp-content/uploads/sites/47/2015/09/FamilyShot_2012_Touch.jpg
436
360
http://airandheat.net/wp-content/uploads/sites/47/2016/03/airqualitylogo.png
2015-09-14 06:00:03
2015-09-14 06:00:03
What It Means To Be A Carrier Factory Authorized Dealer